ˇEVERY ROAD COMES

TO CHINAMPAS!
CHINAMPAS IS LOCATED IN CENTRAL PART OF MEXICO, WHITHIN THE LIMITS OF THE STATE OF JALISCO, BUT ONLY

20 MINUTES AWAY FROM THE STATE OF AGUASCALIENTES.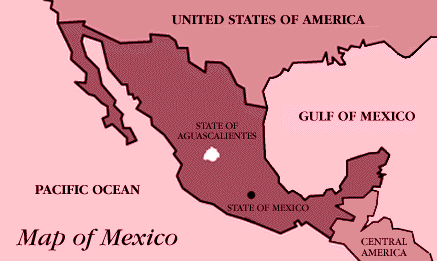 IN THE FOLLOWING MAP, WE HAVE REPRODUCED AND DETAILED THE WHITE AREA, WHICH IS THE STATE OF AGUASCALIENTES AND ITS SURROUNDINGS.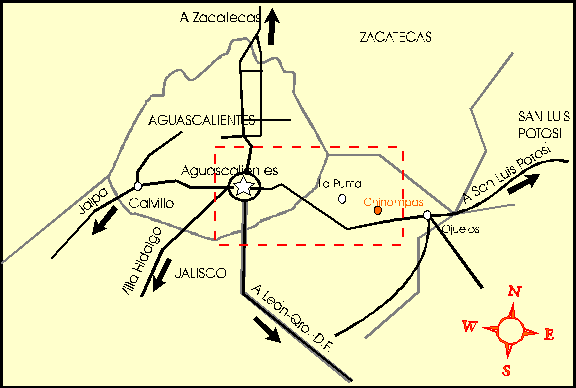 IN ORDER TO GET TO CHINAMPAS, YOU NEED TO TAKE THE ROAD FROM THE CITY OF AGUASCALIENTES THAT GOES TO THE CITY OF SAN LUIS POTOSI, AND WHEN YOU GET TO THE MILE

33.4 (53.5 km.), ONCE YOU HAVE GONE BY THE VALERIO LAKE, YOU WILL NEED TO GET OFF THE ROAD FOR ABOUT 1.7 MILES (2.7 km.), UNTIL YOU REACH A SMALL TOWN, WHERE YOU CAN´T MISS US. ˇWELCOME!.
THE NEXT MAP IS AN ENLARGEMENT OF THE SHADOWED AREA IN THE PRECEIDING ONE.

THE ARROW INDICATES THE LOCATION WHERE YOU CAN FIND US.

33.4 + 1.7 Miles.